Against Atlético Madrid, Arsenal must block out the babble and concentrate only on the here and now
Arsenal is a football club, but it's also a noise. Now the time has come for Arsene Wenger and his team to turn down the volume, until the only voices they can hear are their own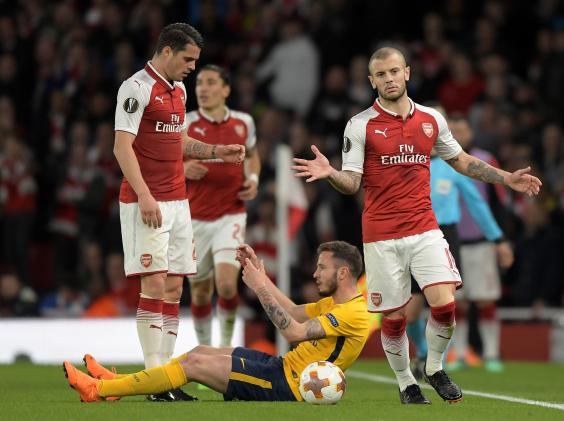 Revealed: surprise name on shortlist to replace Arsene Wenger! Gossip: will this legendary manager be able to say no to Gunners job? Transfer News: Arsenal want this £25 million star! New Tactics Video: how would Arsenal play under Julian Nagelsmann? Must-read: a heartfelt personal reflection on what it was like to cover Arsene Wenger for 22 years, by @Alan_Journalist. My latest column: why Wenger was the perfect analogy for New Labour, by @Julian_Chinstroker. New blog post on Totally Arsenal, please RT and share: 'Arsene Wenger, The Man I Called Daddy'.
Arsenal is a football club, but it's also a noise. A conductorless orchestra of shouts and whispers, of bulletins and sermons, of talk and talk and talk and more talk. Sometimes, the talking gets so relentless that it's easy to fool yourself they're one and the same thing, that the talking is Arsenal, and Arsenal the talking. Sometimes – and especially at times like this – a club can wallow in its past, and fixate on its future, to the extent that it risks taking one eye off the present. This is never a good idea when you're about to play Atletico Madrid.
So past and future can wait for now. The present assignment is quite daunting enough: a team without a single point away from home in 2018, needing to score against a side who haven't conceded at home in any competition for four months. If the late deflation of Arsenal's 1-1 draw at the Emirates last week was the inevitable consequence of a team unduly prone to lapses in concentration, then the time for such lapses has surely passed. In order to emerge triumphant at the Wanda Metropolitano on Thursday night, Arsenal will need to be perfect. In the face of a hostile home crowd, and a 24-hour cacophony of chatter, Arsenal need to cut out the background noise, turn down the volume, until the only voices they can hear are their own.
The fact that Arsenal are such clear second favourites, that there is so little faith within the English game that they can pull off a famous upset – that it would even be considered an upset – says as much about Arsenal's regression under Wenger as it does about Atletico's rise under Diego Simeone.
It wasn't always like this, of course. The great Wenger teams cut a great swathe through the continent, and they did it however they needed to. Whether it was through thrilling attacking football (the brutal 5-1 demolition of Inter Milan at the San Siro), composed dominance (the stunning schooling of Real Madrid at the Bernabeu in 2006) or pure grit (the agonising goalless draw in Villarreal that secured their only Champions League final to date), the Arsenal sides of old knew how to get results in these sorts of games. You wonder whether they still do.
Can we learn anything from the nine goals Atletico did concede at home? First of all, you need to be prepared to stick at it: five of the nine came in the last 10 minutes. In terms of build-up, six came from crosses, one from a penalty, one from a hashed clearance and one – against Sevilla – after a sort of weird head tennis in midfield. Conclusion: you don't really pass your way through Atletico Madrid. You don't counter them. You hardly ever score from distance against them. All you can do, really, is defend well, build some pressure, keep the crosses coming in, and hope.